Hydraulic Centrifuge Supplier ?>
Hydraulic Centrifuge Supplier
Hydraulic centrifuge is an ideal equipment to separate fine solids in oil and gas drilling mud process system. It is designed based on electrical drive centrifuge, the hydraulic drive centrifuge is more flexible, so more and more clients choose hydraulic centrifuge. AIPU is one of the top suppliers for hydraulic and electrical drive centrifuge for drilling mud process. The centrifuge is 14 inch diameter bowl which is stainless steel and screw in stainless steel. AIPU supply different size of centrifuge as well as other solids control equipment for drilling mud process.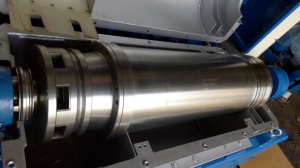 Hydraulic Centrifuge Specification
1.       Bowl diameter is 14 inch (356mm), bowl length 59.5 inch (1257mm). The centrifuge bowl is stainless steel SS304 material for rust proof. The bowl installed on decanter centrifuge with bearing base to allow centrifuge bowl rotating at 3200RPM speed.
2.       Screw of centrifuge is stainless steel SS304, the impeller of screw coated with tungsten carbide 2mm thick. The screw installs inside of bowl with bearing connection. The speed difference between screw and bowl is 40rpm to allowed solids discharge out.
3.       30kw main motor and 7.5kw assistant motor installed, they are explosion proof standard as per required standard code. IECEX or ATEX certified motor can be supplied.
4.       The solids discharge port installed replaceable tungsten carbide ring for protection. The protection ring can be replaced for centrifuge maintenance.
5.       Centrifuge installed on carton steel frame with rubber plug to reduce centrifuge vibrating.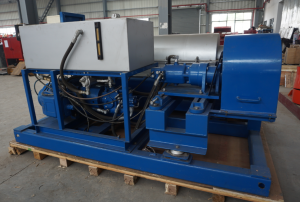 Hydraulic centrifuge and electrical drive centrifuge both can be supplied by AIPU Solids Control. High speed or middle speed centrifuge can be supplied for option depending on solids separation size requirement as well as budget requirement. The middle speed centrifuge is much better price because low speed rotation makes lower requirement of rotating parts material and mechanical machinery principle. Please contact AIPU Solids Control for further information.