Hook Shaker Screen Supplier ?>
Hook Shaker Screen Supplier
AIPU Solids Control supply a series of hook  shaker screen for international top brand shakers. There are hook type and wedge frame type screens for different shakers, different shaker supplier build their own design shaker with hook type or wedge frame type shaker screen. There are many suppliers for hook  shaker screen in China and AIPU Solids Control is one of the leading suppliers with top quality and correct mesh design.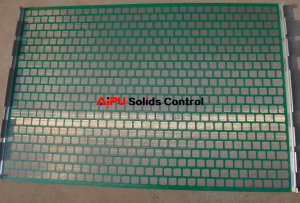 Main Configuration Of A Hook Shaker Screen
Steel plate with square holes for mesh to paste on. The frame size can be changed depending on shaker model requirement and holes normally same to maximum it's effective screen area. There are colors for options as per RAL no. and standard color is green.
3 layers of mesh paste on steel plate by good quality of glue. The bottom mesh normally 20 mesh with larger diameter for strength purpose, top mesh is fine mesh as per API mesh size from API 20 to API 400. There is standard mesh wire or super extra thin wire options depending on mud flow or working life requirement.
Galvanized hook fix on both end of screen for installation and fast tightening on shale shaker. There is 90 degree hook or 180 degree hook from different shaker models.
Rubbers on shaker screen back have to be good quality for seal and oil resistance.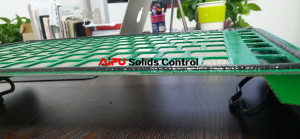 AIPU Solids Control supply hook shaker screen as well as wedge type shaker screen. Other than shaker screen, we supply shale shaker, 3 in 1 mud cleaner, decanter centrifuge, mud tank, mud agitator, etc. Please contact us for inquiry freely.