High Pressure Poor Boy Degasser ?>
High Pressure Poor Boy Degasser
High pressure poor boy degasser is built as per ASME VIII standard for pressure vessel. The poor boy degasser is well used in oil and gas drilling site to separate harmful gas in drilling mud and reduce dangerous explosion. AIPU build both standard pressure degasser as well as high pressure degasser as per client customized requirement. AIPU built 2 sets high press degasser for gas drilling to Indonesia. The degasser contains tank vessel, mud inlet, mud outlet, gas vent line as well as all necessary pipeline and valves.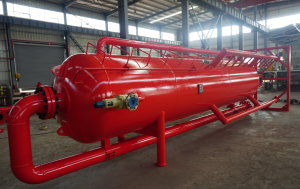 High Pressure Poor Boy Degasser Specification
Tank vessel diameter is 1000mm size for 300 m

³

/h mud flow capacity. The 800mm and 1200mm vessel diameter can be supplied for selection as per mud flow capacity requirement.

Mud inlet line is 5" size and 5" flange to suit high pressure requirement as per ASME VIII standard. Mud outlet line is 10" size with flange connection and gas vent line is 10" size connected to gas vent line to flare ignition device.

The mud outlet line connect with a U turn pipeline before goes into shale shaker.

The vessel thickness will be built as per pressure requirement, pipeline and valves will have to suit the pressure requirement as well.

30 meters gas vent line can be ordered together with degasser, the gas vent line normally won't be supplied without special request in quote.

Skid mounted is 2 meters by 2 meters and total height is 5.9 meters for 20 feet container delivery.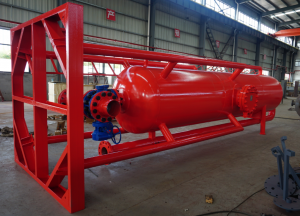 High pressure poor boy degasser is not the standard model, without special request, AIPU will supply normally pressure degasser because of cost effective. Flare ignition device and gas vent line can be supplied together with degasser to separate gas and ignition gas. Please contact AIPU Solids Control for more information.