Flare Ignition Device Factory Test ?>
Flare Ignition Device Factory Test
AIPU Solids Control built 5 sets of flare ignition device for an gas drilling contractor to connect with their current poor boy degasser gas vent line. The flare ignition device mainly used for igniting the waste gas. The gas is coming from the equipment poor boy degasser which design to release waste gas from drill mud. The gas is flammable which is dangerous on the drill site even all equipments are required to be flameproof. There are 3 main components for a whole flare ignition equipment, ignitor , flare mechanical part and electrical control panel. The electrical control panel will be movable which will be 30 meters far away the flare, so there is a high protection grade junction box installed on flare and 30 meters cable between 2 component for control.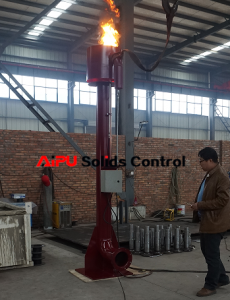 Main Specification Of Flare Ignition Device
Model name of AIPU flare ignition device is APFI20/3. The model name including AP for company name in short, 20 for torch diameter and 3 for flare height.
The torch diameter of flare ignition equipment is 200mm size and burn height is 3m for safety and convenient operation.
The working voltage is 220V and ignition voltage reaches to 16Kv and ignition frequency reaches 100 to 1000 per minute.
There is a back valve for gas entrance to avoid gas back flow while ignition and burning to keep sure safe burning.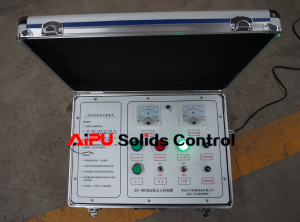 The flare ignition device will connect with the gas vent line of poor boy degasser, the poor boy degasser is connect with the shale shaker to discharge drilling mud for further solids control treatment. So please check and confirm if you need pipe line from poor boy degasser to flare ignition device cause all quotations of flares are not including extra pipeline cost and arrangement. Please contact AIPU Solids Control for further more information.