Flare Ignition Device Delivery To Jobsite ?>
Flare Ignition Device Delivery To Jobsite
AIPU Solids Control deliveried 7 sets of flare ignition device to jobsite this week. The client ordered 7 sets of flare ignition device for 7 sets of oil drilling rig and solids control system on jobsite. The ignition device will be connected with poor boy degasser to ignition the waste gas out of drilling mud that separated by poor boy degasser. There will need around 60 meters pipe from poor boy degasser to flare ignition device for jobsite safety purpose. The control panels of flare ignition device is 30 meters away and junction box on ignition device with explosion proof standard.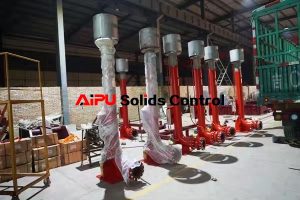 Flare Ignition Device Specification
AIPU model of flare ignition device APFI20/3, AP is the short name of AIPU.
Torch diameter on top is 200mm, stainless material, well welding between stainless and carbon steel material.
The burner height is 3 meters including torch on top, there is back valve installed on bottom of gas inlet to avoid gas flow back for safety purpose.
There is a control panel that can be move by hand, a junction box installed on flare ignition device with high standard of explosion proof and protection standard.
Color of the ignitor can be customized. The standard is red for a warning color.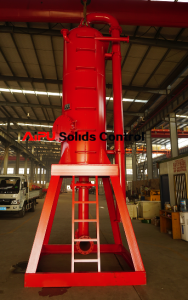 Flare ignition device is one of the main equipment from solids control equipment manufacture, there are some details can be customized depending on client. Please contact AIPU Solids Control freely for any inquiry.