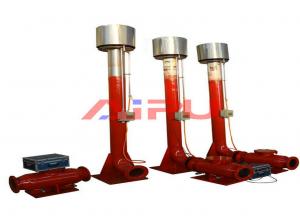 Flare ignition device in actual application ?>
Flare ignition device in actual application
Flare Ignition device is the equipment for matching oil drilling system, it can dispose the oil refineries and natural gas gathering stations tail gas. It can be used to have the harmful gas burned to prevent the environment and security from being endangered.
Installation considerations of ignition device
In the transportation, and lifting process of the burner should avoid damaging the insulation of ignition wire.
We must select the open air to install the burner.
The pedestal of burner should be positive anchoring with foundation, when requested to use guy rope.
Flare ignition device should install the place with good environment to prevent electronic circuit is not affected by moisture pick-up.
Matched use with mud gas separator in drilling process.
Pay more attention on torch to prevent any break on ignition guideline insulation. When we install torch, please consider to choose safe place with lower fire possibility. The torch base must be stable with level pedestal and use rope to assist if necessary.
Ignition device maintenance measures
The instrument should works in the cool and dry place, don't shine for a long time and forbidden to insolate, rain.
If the remote control can't get the signal under normal circumstances, and the remote control ejector indicator is darken shows remote control battery is under voltage, need to change battery.
In order to ensure the accumulator can normally work when have no alternating current, when have current request use 220v alternating current.
The ignition needle need often scrubbed, eliminated teh carbon deposition and sundries.
Safety warning of flare ignition device
The electric components should be under good condition without wet or quantity dust. Moreover, ignition device is commonly used together with poor boy degasser.
Ignition needle has high pressure can't touched when ignites. When install or disassemble the ignition head, please turn off the power source to prevent electric shock. The device don't has anti-explosion function, please far away from combustible gas source when used.
Turn off the power source when long times no use the device, and recharged it per 3-4 month to keep battery work normally.