Dual Shale Shaker Unit for Nigeria Oil Drilling ?>
Dual Shale Shaker Unit for Nigeria Oil Drilling
Dual shale shaker is a standard design for 2 sets shale shaker in a public skid for fast installation and removal. AIPU built a dual shale shaker unit for an Nigeria drilling contractor for oil drilling in March. The shaker unit delivery to Nigeria end of March and will arrive to Nigeria drilling site soon for jobsite commissioning. Tripile shale shaker unit can be supplied too and single deck shaker installed for steady working. Deck angle can be adjust separately to adjust shaker ground level.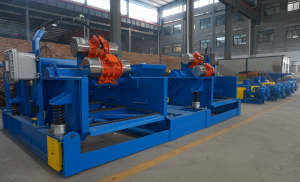 Dual Shale Shaker Unit Features
2 sets of linear motion shale shaker installed for deck angle adjustable from -1 to +5 degree by mechanical adjust. Vibrator motors are Italy brand with IECEX, ATEX or China standard explosion proof.
4 panels shaker screen installed each shale shaker for mud flow capacity 600GPM at 40 mesh screen for 1.2g mud density and 45S mud viscosity.
Distribution pipeline connected 2 shakers' buffer box to feed shaker for first phase cleaning.
3 layers painting 450 microns thick, 2 layers epoxy zinc rich painting and top layer PU material for good appearance.
A public shaker skid with lifting lugs for fast moving.
Dual shale shaker or 2 sets single deck shale shaker both available from us for oil & gas drilling. Shaker models is an open option from 2 panels, 3 panels or 4 panels depending on mud flow capacity and space limit. Please contact AIPU freely for shaker model selection and inquiry.