Dual Double Deck Shale Shaker Used in Solids Control System ?>
Dual Double Deck Shale Shaker Used in Solids Control System
Dual double deck shale shaker contains 2 sets double deck shale shaker in a public skid to allow fast moving. Dual shale shaker is well used in oilfield for solids control application, double deck shaker to replace single deck shaker maximums the mud flow capacity and minimum cut point by using a fine mesh on bottom deck. AIPU Solids Control is one of the leading suppliers in China for various design shale shaker like single deck or double deck, 2 panels or 3 panels or 4 panels shaker, single skid or dual skid or triple skid.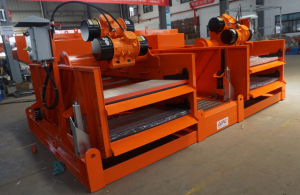 Dual Double Deck Shale Shaker Features
Linear motion designs with 2 sets US brand vibrator motors at G force 6.0-7.5G which is adjustable on motor wedge.
2 sets double deck shale shaker installed, each shaker with a dual decks, each deck installs 4 panels shaker screen which is replaceable with Mongoose screen.
-1 to +5°C deck angle adjustable by mechanical screw. Normal shaker working angle +1 to +2°C as per drilling mud conditions.
All electricals are IECEX certified Explosion proof, ExdIIbT4 or above.
Each shaker installed a buffer box to reduce mud flushing shaker screen.
AIPU build other solids control equipment too like desander, desilter, centrifuge, centrifugal pump, mud agitator, mud tank, etc. The whole solids control system can be supplied by us with necessary technical requirement. Please contact us freely for inquiry.