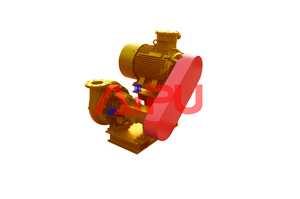 Drilling mud shear pump from Aipu solids control ?>
Drilling mud shear pump from Aipu solids control
Drilling mud shear pumps are usually applied in drilling fluids solid control. Shear pump can provide quick concoction of mud in short time to increase drilling efficiency. Aipu machinery producing shear pumps have high performance and many advantages.
Why we need shear pump?
People choose shear pump because of its high performance. There are several parts in shear pump, including impeller, volute, packing case, shaft, combination belt and other machines. Drilling shear pump has more complicate structure impeller than other pump and meanwhile the impeller is the most important part of the shear pump because it can make shear pump more highly efficient.
Drilling mud shear pump can greatly increase the hydration of the soil particles, and also can shear and hydrate the compound within quite a short time and it can save more than 30% of the betonies. In addition, shear pump has bigger ability of mixing and mud processing than other types of equipment. What's more, they have higher flow rate to make up for disposing mud.
Aipu shear pump parameters
Including following models: AIPUJQB6545, AIPUJQB6535
| | | |
| --- | --- | --- |
| Model | JQB6545 | JQB6535 |
| Capacity | 120m3/h | 100m3/h |
| Head | 45m | 35m |
| Motor | 55KW | 45KW |
| Weight | 980kg | 800kg |
| Dimension | 1150×1100×1500 | 1150×1100×1250 |
Features & Benefits of Drilling Mud Shear Pump
Greatly enhance the hydration of the soil particles.
Make the compounds dilute, shear and hydrate in a shorter time while saving over 30% of bentonite.
Offer larger capacity and lift to meet the demands on concoction and mud processing.
About Aipu solids control
Aipu is a professional shear pump manufacturer and supplier in China oil drilling mud solids control industry. Aipu is capable of providing customers with series product. The products we can provide for oilfield and drilling fluid processing system including drilling mud shale shaker, drilling fluid mud cleaner, desander, desilter, drilling fluids decanter centrifuge, vacuum degasser, mud tanks, mud gun, mud agitator, drilling mud centrifugal pumps and all the other solids control equipment, complete solids control system ,etc.
If you need or are interested in above product, please don't hesitate to contact us. Aipu solids control will provide you optimal solutions to save your time and cost.