Drilling Mud Equipment Delivery To Jobsite ?>
Drilling Mud Equipment Delivery To Jobsite
AIPU Solids Control deliveried 2 trailers of drilling mud equipment to jobsite this week. The drilling mud equipments including linear motion shale shaker, drilling mud desander, drilling mud desilter, mud decanter centrifuge, centrifugal pump, vacuum degasser, etc. The drilling mud equipment will be working in Russia for low temperature condition.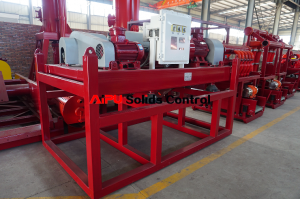 Drilling Mud Equipment – Linear Motion Shale Shaker
Linear motion is the most popular vibrating motion in the world. Linear motion shale shaker install 2 sets of vibrating motion motor to supply a G force from 6.5 to 7.5 which is adjustable. The shaker screen can be wedge type screen or hook type screen with different screen installation type. The shaker screen normally install from 20 mesh to 120 mesh depending on drilling condition. The shaker deck is heat treated for better strength. There are 2 panels, 3 panels, 4 panels and even more panels of shaker with different shaker screen area. AIPU has 2 panels shaker for HDD or other low mud flow drilling requirement, 3 or 4 panels for standard option, 6 or 8 panels for high mud flow or better shaker performance.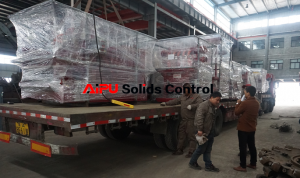 Drilling Mud Equipment – Desander / Desilter
Desander is the second phase of drilling mud equipment to separate sand about 50 – 70 microns and above. Desilter is the third pahse of drilling mud equipment to separate silter about 20 microns and above. Both desander and desilter get a same principle, the mud goes into cyclone with a proper pressure 0.25 – 0.4 Mpa, the centrifugal force will help the mud rotate alone the cone wall, heavy solids particals drop through nozzle and drop onto shaker screen. The clean fluids part over flow on top and drop into next tank compartment. Normally there will be a shaker to dry solids particles after desander or desilter cone nozzle to dry solids and reduce fluids lose.