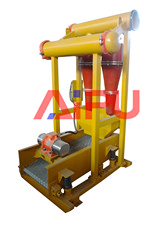 Drilling mud desanders from Aipu solids control ?>
Drilling mud desanders from Aipu solids control
Drilling mud Desanders   are the second stage processing equipment in the solids control system. Desander hydrocyclone separate 47-76 μ m particles from drilling fluids. We commonly use 8″, 10", or 12″cyclones combined desander. According to the clients' demands of the treating capacity, we can configure desande with different numbers of hydrocyclone.
Drilling mud desanders application
Desander can purify drilling mud for different drillings or slurry process. Also remove well water sand, industrial concentration, solid-liquid separation, liquid gas and liquid immiscible separation and so on.
Desander can be widely used to water source heat pump system.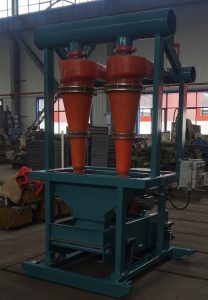 The desander working principle
We make the desander cones use high anti-corrosive polyurethane. They are high temperature resistant and anti-abrasive. The cyclone desander principle is centrifugal sedimentation and density difference, when the water flow into the equipment under a certain pressure, it will create a strong rotation. Because of the different sand water density, under action of centrifugal force, it will lead to different stress, the lighter material is discharged through the overflow tube, then the heavier material is discharged along the conical cyclone tube wall from the bottom. Under certain condition and range, the greater water pressure, the higher sand removal rate, we also can use the desander hydrocyclones in parallel connection.
The advantage of Aipu desander
We ise high anti-corrosive polyurethane or hi-chromium for long service life, compact structure, convenient to handle and install.
Connection way is coupling. Easy to install and replace
Putting the materials into machine along the tangent line of the feed inlet, the transition is smooth and is in favour of improving separation efficiency. The range of separation size is large.
Large capacity, high efficiency and better performance
The symmetrical inlet structure makes the hydrocyclone allocation more reasonable and work more stable.
Competitive price high cost-effective
How to order desanders?
Firstly, confirm the capacity of mud system, or the flow rate of desander we need
Then, inquire AIPU for if the desander with certain treating capacity is available
Thirdly, tell us do you need bottom shaker or not. If yes, what is the requirement or preference
Fourthly, if any special requirements on electrical system, Ex-p certificates, etc.
Finally, confirm order and indicate all detail or specs.
Wish above information be helpful to you. Otherwise, you can contact us freely.