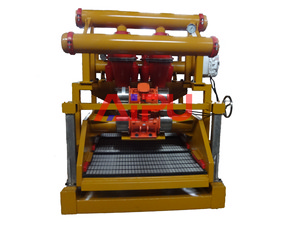 Drilling mud cleaner from Aipu solids control ?>
Drilling mud cleaner from Aipu solids control
Mud cleaner is a key member of drilling fluid solid control system that can efficiently remove 20~74micron cuttings from drilling fluids. It is composed of one shale shaker, one desander and on desilter.
Structure of drilling mud cleaner
Normally mud cleaner is a combination of desander and desilter. Desander is mounted on the top of the first mud tank together with shale shakers and vacuum degassers, while desilter is mounted together with centrifuges. Sometimes to save the top area of the mud tank, desander and desilter are combined together to work as high efficient mud cleaner.
Desander and desilter are consisted of hydrocyclones, high pressure flow pipes and a small shale shaker at the bottom. For desanders and desilters, only one vibration motor is used to drive the screen basket. While for high efficient it would need two motors. There would be equipped with two 10″ or 12″ iron hydrocyclones for desander just as the solids need to be separated is relatively big, and include some sands in the mud. While for desilter, it would be equiped 6 to 12 pcs 4″ hydrocyclones. which are made of wear-resisting plastic.
Aipu drilling mud cleaner advantages
The drilling mud cleaner provides efficient removal of sand and silt particles larger than 20 microns, and some as small as 15 microns. Removing and drying drilled solids helps meet environmental regulations by minimizing waste generated and reducing disposal cost.
Processing capacity of 1,000 gpm with the 2-12 desander and 900 gpm with the desilter concentrates solids onto a shale shaker.
Drilling  mud cleaner can be operated with the 2-12 desander, desilter or both to process weighted or unweighted fluid systems.
Drilling mud cleaner helps minimize maintenance, repair and replacement of downstream equipment.
Drilling mud cleaner reduces sand and silt-size particles and saves liquid, thus reducing mud cost, chances of stuck pipe and lost circulation and improving rate of penetration.
Drilling  mud cleaner minimizes waste generated thus reducing disposal cost.
Aipu is specialized in design, development and manufacture of petroleum drilling solid control equipment. The products include shale shaker, centrifugal pump, shear pump, shale shaker, vacuum degasser, mud agitator and solid control system and etc. If you want to get more details about mud cleaner, please focus on our blog and website or call us.