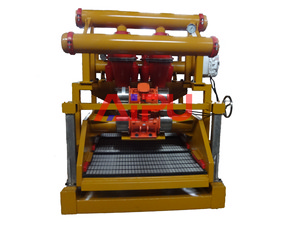 Drilling fluids mud cleaner for oilfield drilling ?>
Drilling fluids mud cleaner for oilfield drilling
Drilling fluids mud cleaner is the second or third stage drilling fluids solids control equipment in drilling fluids recycling system. It consist of desander, desilter and a bottom shale shaker. It integrates the performance of aforesaid three equipments, featuring large disposal capacity, rapid treatment speed, less energy consumption, occupying small space, etc. Our mud cleaner can meet almost all needs for oil & gas well drilling fluids treatment system and HDD mud recycling system.
Work process of mud cleaner
The weighted mud flows to the inlet head section of the desander and/or desilter entering the hydrocyclones for separation of particles. Mud leaving the underflow is further screened with fine mesh to separate larger particles allowing only barite-size particles to pass through the screen.
Features of Aipu made mud cleaner
1) Polyurethane material desander and desilter cone for long lifetime.
2) Removable desander and desilter cone assembly mounted on the shale shaker top, when removed the cone assembly, it can be used as a separate shale shaker.
3) Patent design shaker deck angle adjustable device. It is mechanical type adjustment for the shake deck angle changing, more reliable then the hydraulic type. During working, when operators change either side of the shaker deck angle, both sides goes up and down meanwhile. It is much user friendly and welcomed at the jobsite.
4) Patent design sealing rubber for the shaker deck. It is replaceable and easy for maintenance. It can protect the shale deck well and extend the shale shaker screen lifetime.
5) The shaker bottom deck is made from stainless steel for long service life.
6) The complete shaker deck is treated by heat treatment for High G force operation.
7) Pretensioned shaker screen for fast screen changing.
8) Famous brand vibrating motors : IEC Ex, ATEX and UL Certified are available.
Aipu is a professional solids control manufacturer and expert in drilling waste management. Aipu is capable of providing customers with oil & gas drilling solids control equipment, centrifuge, drilling waste treatment equipment and drilling security equipment, such as shale shaker, decanter centrifuge, shale shaker screen, desander, desilter, vacuum degasser, centrifugal pump, vertical centrifuge, submersible slurry pump, shear pump, mud agitator, mud gun, drilling fluid mud cleaner, jet mud mixer, screw pump, mud tank, diesel tank, water tank, complete solids control system, etc.