Double Deck Shaker For Oilfield Drilling Mud Treatment ?>
Double Deck Shaker For Oilfield Drilling Mud Treatment
Double deck shaker is a good option for oil field drilling mud treatment to minimum it's footprint and maximum mud flow capacity. The first deck install coarse mesh for first phase drilling mud treatment and bottom deck install fine mesh for second phase drilling mud treatment. A single deck shaker is 500 – 600 GPM mud flow and double deck shaker mud flow capacity will reach to 700 – 1000 GPM depending on shaker screen mesh arrangement. AIPU Solids Control build both single deck and double deck shaker for linear motion vibrating.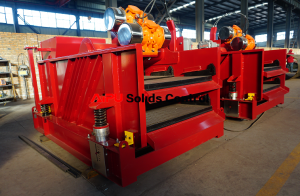 AIPU Double Deck Shaker Specification
Mud flow capacity: 700 – 1000 GPM mud flow as per screen mesh arrangement. Top deck normally choose screen 10 to 40 mesh and bottom deck screen choose 40 – 120 mesh depending on drilling mud conditions.
G force: Double deck shaker G force is adjustable by adjust vibrator motors. The max G force reaches to 7.5G.
Shaker screen size 1165 x 585 x 40mm by composite material. Each deck install 4 pcs shaker screen and totally 8 pcs screen for AIPU double deck shaker.
Both vibrating motors and electrical control panels can be different standards depending on different clients like IECEX, ATEX, UL or other standards.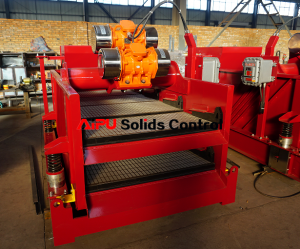 5. Deck angle is adjustable brom -1 to 5 degree by mechanical wheels. The best performance for shaker deck is to   allow 3 panels of screen with wet solids discharge and 1 pc panel screen with dry solids discharge. Deck angle adjust depending on screen performance.
6. Shaker skid is bolted on mud tank with suitable locking.
AIPU Solids Control is one of the leading manufacturer in China for double deck shaker as well as single deck shaker. Please contact us freely if any requirement.