Desander Plant for Pipe Jacking ?>
Desander Plant for Pipe Jacking
There will be mud required for pipe jacking to flush and bring solids out of the hole, the desander plant is designed to process the returned mud for reuse and reduce waste discharge as well as reduce cost. AIPU build different sizes of desanser plant for pipejacking based on it's mud flow capacity requirement by different model of shale shaker and cyclone quantity. It is very compact design with small footprint, large mud flow capacity, no mixing application and no clean mud storage capacity. The treated mud will be over flow into another tank on site.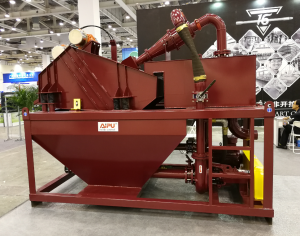 Specification of AIPU Desander Plant
1.       50m³/h, 100 m³/h and 200 m³/h mud flow capacity for option. The mud flow selection will be depending on pipe jacking mud speed and desander plant mud flow capacity will be a bit larger normally.
2.       A double deck shale shaker sit on small mud tank, the bottom deck install coarse mesh screen for first phase solids separation and top deck install fine mesh screen for drying solids out of cyclone. The desander or desilter cyclone install on top of double deck shaker for second phase solids separation.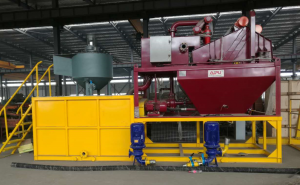 3.       A pick up centrifugal pump installed on tank skid to supply mud into cyclone. The pump model selection will be design as per whole system mud flow.
4.       Skid mounted mud tank with sand trap compartment, there is a small box to storage of mud over flow from cyclone. The small box is very small, so another storage tank will be required on jobsite.
Desander plant is a very compact and cost effective option for pipe jacking, AIPU build whole plant customized design with different model selection and tank design arrangement. It can be larger tank with larger mud storage as well as mud mixing application. Please contact us for technical design freely.