Decanter Centrifuge for 2-5 Micron Separation ?>
Decanter Centrifuge for 2-5 Micron Separation
Decanter centrifuge is the forth phase solids control equipment for 2-5 micron separate by centrifugal force at 30 cubic meters per hour treating capacity. AIPU Solids Control supply various options of electrical drive centrifuges with bowl size from 220mm to 550mm size. Before centrifuge treatment, the drilling mud need to be treated by shale shaker, desander and desilter for 15-25 microns finally by desilter cyclone.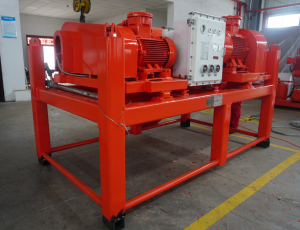 Decanter Centrifuge Main Component
Rotating parts including centrifuge bowl and screw for stainless steel material. Screw impeller is coated with tungsten carbide for protection of impeller wear. The most popular size bowl is 355mm diameter and 1250mm length for maximum rotating speed 3500RPM.
Main motor and assistant motor installed to drive centrifuge bowl and screw for flame proof standard.
Electrical control panel is same explosion proof standard compares with centrifuge motor. VFD control panel can be supplied for various speed control depending on mud conditions.
Centrifuge skid with legs to install bowl, motor and control panel.
Other than decanter centrifuge, AIPU is able to supply a complete solids control equipment and tank equipment like centrifugal pump, mud agitator, mud gun and degasser. The whole tank design and pipeline arrangement is customized as per request.