Cyclone for Mud Cleaner ?>
Cyclone for Mud Cleaner
Cyclone is the effective parts for second phase and third phase mud recycling at cut point 15-25 micron for 4" size cone and 47-74 micron for 10" size cone. 10" size cone is used for desander and 4" size cone is used for desilter. AIPU Solids Control is a manufacturer for solids control equipment including mud cleaner and or only cyclone spare parts.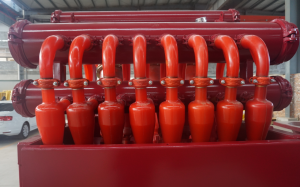 Cyclone Configuration for Mud Cleaner
4" cyclone including cone body with mud inlet and mud outlet, 90 degree elbow connected with cone body outlet with clamp, another 2 pcs clamp installed on the other side of elbow and cone body inlet. Mud inlet and elbow connected clamp side will connet to mud cleaner pipelines. Each cone body installed a nozzle with a screw cup.
10" cyclone including bottom cone, top cone and a nozzle installed on solids discharge with a screw cap.
The cone inlet on the max diameter level, so the mud goes into cyclone with a pressure, the mud will flows beside cone inside wall, solids will close to cone wall and drops to bottom by gravity and centrifugal force, fluids will be pressed to over flow to top of cone.
The mud cleaner is an equipment with desander cyclone, desilter cyclone and shale shaker. There is options for mud cleaner only desander/ desilter cyclone with shaker for a better drying performance. Please contact us for cyclone or mud cleaner inquiry freely.