Composite Shaker Screen for Shaker Deck ?>
Composite Shaker Screen for Shaker Deck
Composite shaker screen is frame type design with wedge pretension for fast replacement. It is more effective compares steel frame because it's easier production procedure and quality control by reduce steel welding. AIPU hunter MG 4 series shaker install the composite frame screen which is replaceable with Swaco Mongoose screen. AIPU Solids Control supply shale shaker together with various shaker screen to replace with all top brand shaker screen steel frame, composite frame or hook screen.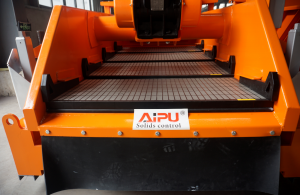 Composite Frame Shaker Screen Configuration
Welded steel strengthen construction in side of the frame to supply a strong support.
Composite frame with steel strengthen construction inside to reduce welding to reduce production procedure and easer quality control because harder control of welding quality.
2-3 layers of screen wire mesh stainless steel material, extra fine or heavy duty wire supplied for option. Different wire mesh combined together to follow API RP 13C regulation with suitable cut point and effective area.
Frame design is supplied as per replacement screen model like MD series, Swaco Mongoose, VSM 300 primary or scalping, etc. Once screen model confirmed, AIPU is able to supply replace screen.
Special designed screen can be supply too as per drawing with extra cost.
AIPU Solids Control is one of the top shaker screen suppliers as per API RP 13C regulation. Other than composite frame shaker screen, we are able to supply steel frame and steel hook replace shaker screen for various shakers. Please contact us freely for screen inquiry.