Charge Pump for Mud Pump ?>
Charge Pump for Mud Pump
Charge pump is a combination with centrifugal pump, pipeline and pump skid frame with butterfly valves. The charge pump is well used for charging mud into mud pumps which will supply mud into drill rig. AIPU is a top supplier for charge pump as well as other kinds of pump for drilling mud process. Mud pump is high pressure pump to help mud feeding into drill rig at proper pressure. A charge pump beside mud pump is to assist mud pump for charging mud.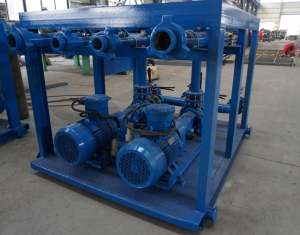 Charge Pump Specification
1.       Centrifugal pump combine with electrical motor and pump as basic equipment. The electrical motor is explosion proof, ExdIIbt4 mark. The Ex standard can be IECEX, ATEX or other standard as per buyer request. The pump is replaceable with mission magnum and spare parts is replaceable too.
2.       The coupler between motor and mump is covered for safety protection, the gaps for the cover is small enough to allow finger heart.
3.       A skid with frame install 2 sets centrifugal pump with pipeline arrangement, the 2 pumps connect with each other by butterfly valve, it allows 2 pumps flexible work when one of the pumps in maintenance.
4.       Electrical control panel can be supplied for charge pumps with electrical cable as per motor size. Or the control panel can be supplied by other supplier for control all motors on drill site for far away control and cost effective.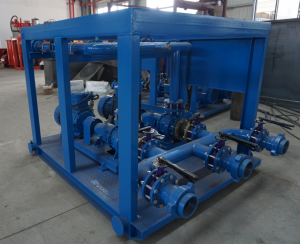 Other Pumps AIPU Supplied
1.       Submersible slurry pump is vertical pump for mud transfer from mud pit, the vertical pump is easy and flexible installation and free maintenance.
2.       Screw Pump is horizontal for transfer mud to decanter centrifuge to avoid damage solids before centrifuge separation.
3.       Centrifugal pump on solids control mud tank for trip pump, desander pump, desilter pump, mixing pump and well as mud transfer pump on tank.
4.       Other pumps on drilling site.