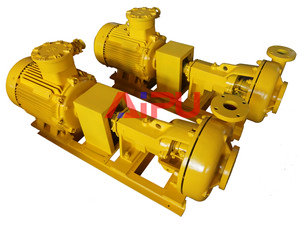 Centrifugal pump produced by Aipu solids control ?>
Centrifugal pump produced by Aipu solids control
Centrifugal pump brief
Centrifugal pump is an ideal equipment used to provide power for densander, desilter, and jet mud mixer. It can be also used as feeding pump ,slurry pump.
Usually, centrifugal pump is called sand pump as well.
The centrifugal pump produced by Aipu solids control is designed based on studying a large number of domestic and foreign famous brand centrifugal pump. Adopted mechanical seal technology and better design. Aipu produce the pump with reliability, large flow, long service life, low consumption, easy to install and maintain and other advantages.
Centrifugal pump types and structure
Aipu centrifugal pumps including the horizontal and vertical centrifugal pump
The basic component of centrifugal pump: a standard motor, spindle, expansion couplings, converters, backboard, impeller, pump case and shaft seal.
Centrifugal pump working principle
Solids control sand pump is a power source for desander, desilter, cyclone mixing device and etc.
After the centrifugal pump started, the pump shaft drive impeller together to do high speed rotation, forced beforehand filling between the blades liquid rotation, under the function of inertia centrifugal, liquid does a radial motion from the impeller center to peripheral. Liquid won energy in the process of flow to impeller movement, static pressure energy increases, velocity increased. After liquid depart from impeller to enter into pump casing.
The advantages of centrifugal pump
Tungsten carbide mechanical seal, good effect, without regular maintenance.
The design of the impeller reduces axial thrust load. Easy to operate, repair and maintain.
All equipment surface using sand blasting treatment
Use more thick pump shell, passage shape is more reasonable, the turbulence is reduced to the minimum than conventional ones.
All bolts, nuts, flat washers, cotter pin galvanization processing, but do not contain chromium plating, nickel plating, pin do antiseptic treatment.
If you need centrifugal pump or you have any other questions , please feel free to contact us. We will give you a optimal solution at reasonable price.