Centrifugal Pump & Mud Gun Delivery ?>
Centrifugal Pump & Mud Gun Delivery
AIPU Solids Control build a complete line of solids control equipment as well as mud tank attachement. Centrifugal pump and mud gun will be used to sit or install on mud tank depending on tank application. The centrifugal pump mainly for mud transfer and supply a suitable pressure if feeding into cyclone or mud pump. Mud gun will work for mud transfer and mud agitating as well. AIPU just deliveried many sets of centrifugal pump and mud gun for a Middle East client for oil and gas solids control application.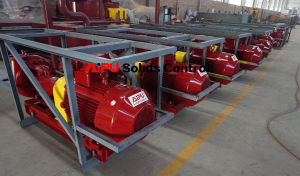 Centrifugal Pump Confirguration
A set of centrifugal pump is made by a set of pump, a set of electrical motor, and connection parts between. The electrical motor is a standard parts worldwide with explosion proof application. There are different brand of motor and AIPU normally choose a top brand of China made. There motor brand can be customized depending on client request like US or other brand. The pump is replaceable with Mission pump for easy transfer and maintainance. The pump itself will be mechanical seal instead of packing seal for better performance and safety. The impeller size can be change depending on drilling mud conditions.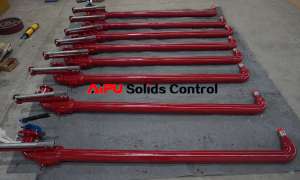 Mud Gun Application
The mud gun will be installed on every mud tank almost. Normally will install on tank corner and mud gun will flush the tank corner to avoid solids settling down and block at corner. The mud gun will be able to transfer drilling mud also, the mixing pump will feed mud gun normally for any tank compartment and discharge to any mud gun controlled by valve. There are different size of mud gun for option, 2 inch or 3 inch with different working pressure. The 3 norzzels can be fixed or rotating options also. AIPU Solids Control supply mud agitator also which has a same application with mud gun for mud agitating, Please contact us freely.