Centrifugal Mud Degasser Delivery to Brazil ?>
Centrifugal Mud Degasser Delivery to Brazil
Centrifugal mud degasser provides a innovative and small footprint solution compares the traditional vacuum degasser which is larger footprint. It is using centrifugal force to separate gas instead of conventional vacuum. AIPU is one of the leading manufacturers for poor boy degasser, vacuum degasser and centrifugal mud degasser, the user will choose different type and model degasser as per requirement. AIPU delivery 2 sets of centrifugal degasser to Brazil early of September to drilling site to replace their vacuum degasser which is sit after shale shaker on solids control mud tank.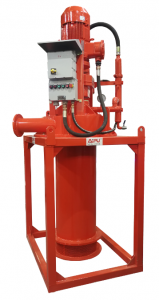 Centrifugal Mud Degasser Specification
Model: APLCQ300, AP is the short name of AIPU Solids Control, CQ is the Chinese name of degasser, 300 is the mud flow treating capacity by cubic meters per hour.

Mud inlet size is 20 inch to allow mud goes into degasser easily, gas discharge size is 2 inch and mud discharge is 6 inch.

Flow rate of degasser is 300 cubic meters per hour at mud inlet, the mud flow is selected to match shale shakers mud flow at shaker tank.

Main motor is 22kw and pump motor is 1.1kw, both motors are explosion proof, special ex standards can be supplies as per technical requirement at different rate.

It is vertical degasser about 3.1m higher, 1 meter by 1 meter footprint, total weight about 1400kg.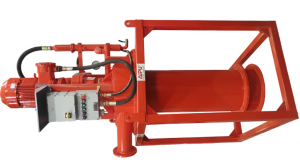 Centrifugal mud degasser is an ideal equipment to separate gas after shale shaker and minimum mud tank space requirement to maximum mud tank clean mud storage capacity in a whole solids control mud system. The centrifugal force is supplied by a suitable design of degasser and a mud feeding pump at a proper pressure. Please contact AIPU for more information.