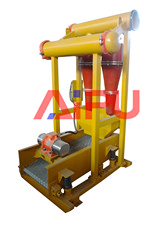 The application of Aipu oilfield drilling mud desander ?>
The application of Aipu oilfield drilling mud desander
Aipu oilfield drilling fluids desander is an economical and practical solids removal equipment. As the second stage of solids control equipment in solids control system workflow, the oilfield drilling mud desander is used to remove the solids 45- 75μm solids from drilling fluids.
The structure of  drilling mud desander
Aipu oilfield drilling mud desander is the combination of drilling fluids desander and drilling fluids shale shaker. The main structure can be divided into two parts, the upper one is hydrocyclones while the underpart is drilling fluids shale shaker. The whole device is driven by a vibration motor.
The characteristic of drilling mud desander
Desander is produced by an advanced design, careful engineering, quality materials and finest workmanship which comprising 8, 10, and 12 inches hydrocyclones made of high wear-resistant material and pipelines, the oilfield desander is easy to operate and maintenance. Besides, the underflow can be adjusted for different capacity to meet various drilling requirements.
Oilfield drilling desander parameter
Model
APCS
Capacity
50~360m³/h
Cone
8″ or 10″
Working Pressure
0.25~0.45MPa
Separation Point
44~74μm
Bottom Shaker
Hunter-D shaker or Hunter-M shaker
Vibration Track
Linear or BEM
Vibrator Speed
1500rpm or 1800rpm
Dimension
1500x1200x1900
1850x1600x2000
Weight
980kg
1500kg
Remark
8″cone=30~35m3/h,10″cone=90~120m3/h
Desander operation mechanism
Desander includes two 12-inch (305-mm) diameter polyurethane hydroclones slant mounted over the shaker. Each desander clone includes four replaceable wear resistant polyurethane sections that are joined together with quick release stainless steel clamps. The desander is furnished with an 8-inch (203-mm) diameter feed manifold and a 10-inch (254-mm) diameter discharge manifold and a 0-60 psi (4.1-bar) pressure gauge. The desander also includes a solids discharge trough to distribute the hydroclone underflow evenly onto the screening surface.
Aipu is a professional manufacturer of solid control equipment in china. We provide our clients high quality products at most reasonable price, at the same time we also sincerely offer the high level after sales service for any home or abroad clients.  Welcome to Aipu solids control.