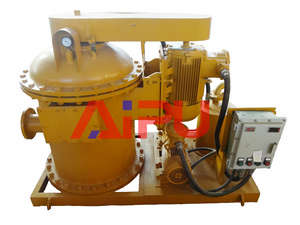 Aipu vacuum degasser for drilling mud processing ?>
Aipu vacuum degasser for drilling mud processing
Vacuum degasser description
Vacuum degasser is special equipment used in solids control system to remove the gases such as hydrogen sulfide, carbon dioxide and natural gas from the drilling mud before they reach the shale shaker. Vacuum degasser is a vacuum unit, which is mainly composed of vacuum tank, vacuum pump, motor, vacuum pump system and electrical control box. It is an extremely efficient method of degassing mobile phase and provides a number of benefits when compared to the use of ultrasonic and helium degassing. Aipu solids control has vertical and horizontal vacuum degasser for your option.
Vacuum degasser working process
Vacuum degasser adopts three methods to separate gases from the drilling fluid:
The drilling fluid is thrown toward blade and tank wall in jetting form through the windows around the hollow shaft of rotor, the gases contained in the drilling fluid break and escape from drilling fluid.
Negative pressure is generated in the vacuum tank by vacuum pump, the bubbles in the drilling fluid expand to surfaces and break, and thus gases can be separated from mud much easier
The foam separator and two layers impeller continuous rotate which drive the gases appear and break.
ZCQ Vacuum degasser parameter
| | | | | |
| --- | --- | --- | --- | --- |
| Model | ZCQ240 | ZCQ270 | ZCQ300 | ZCQ360 |
| Max. Capacity | 240m³/h | 270m³/h | 300m³/h | 360m³/h |
| Ratio | 1.68 | 1.68 | 1.68 | 1.72 |
| Efficiency | ≥95% | ≥95% | ≥95% | ≥95% |
| Main Motor | 15KW | 22KW | 30KW | 37KW |
| Vacuum Pump | 2.2KW | 3KW | 4KW | 5.5KW |
| Speed | 860rpm | 870rpm | 876rpm | 880rpm |
| Dimension | 1750×900×1510 | 1950×1010×1680 | 2250×1235×1650 | 2400×1500×1900 |
| Weight | 1200kg | 1450kg | 1960kg | 2510kg |
Vacuum degasser for drilling fluids solids control
When there is dangerous gas in the drilling mud or blowout occurs, the mud gas separator is arranged as the first units of solids control equipment to treat drilling mud. Than the drilling mud reaches the primary shale shakers, large size solid cuttings is separated by mesh screen, still there is remaining gas bubble. It is the vacuum degasser would further treat the drilling mud by removing the bubbles. The processing of vacuum degasser is very effective for whole well drilling fluids processing system.
Drilling fluids degasser can also act as a big agitator for the drilling mud, which helps the treatment for drilling fluid desander and drilling mud desilter.
Aipu solid control is a professional manufacturer of solid control equipment in china. We will provide our clients high quality products at most reasonable price, at the same time we also sincerely offer the high level after sales service for home or abroad clients. If you need or are interested, please inform us any time.