AIPU Solids Control System on Site ?>
AIPU Solids Control System on Site
Solids Control System is at well drilling site to process drilling mud to make a mud circulation system including mud cleaning, mud mixing and mud storage applications. AIPU Solids Control one of the top suppliers in China with API certificate. The whole system including shale shaker, mud cleaner, decanter centrifuge, pump system, mud tanks, mud agitator, degasser, etc. AIPU is able to supply a complete system or separate solids control equipment with several standard models for option.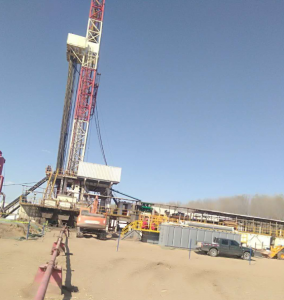 Solids Control System Main Configuration
Mud tanks for mud storage, equipment installation, pipeline arrangement and suitable lifting lugs.
3 phase solids separation equipment: shale shaker, desander and desilter.
Degasser system: poor boy degasser and vacuum degasser.
Other tank equipment: centrifugal pump, mud agitator, mud gun, mixing hopper.
Pipeline system: mud pump suction line, mixing pump suction line and discharge line, mud gun line, water line, mud over flow line.
Other tank attachment: walkway, handrail, stair way, control panel.
Tank top is made by checker plat or gratings for option.
Solids Control System is the professional mud treatment system including mud cleaning, mud storage and mud mixing. AIPU equipment sold to over seas like Australia, India, Indonesia, Middle East, Africa, etc. Please visit our website for more equipment technical spec and model selection.
AIPU mud system at working site
There are over 100 sets of mud system or equivalent tanks and equipment delivered all over the world. Working site including oil and gas well drilling, water well drilling, geothermal well drilling, coal bed methane, the shale gas, HDD, and so on
Regions including Middle East, Taiwan, Singapore, Malaysia, Thailand, Indonesia, India, UK, Germany, Ukraine, Russia, Australia, and so on
Clients select us since the true cost-effectiveness and professional service thorough out whole project. AIPU is proud of what solutions we have proposed for clients make them satisfied and happy with result.
Please feel free to contact us for more information on drilling mud solids control system