AIPU Shale Shaker Performance for Water Drilling Mud Treatment ?>
AIPU Shale Shaker Performance for Water Drilling Mud Treatment
AIPU sent 2 shale shakers to oilfield drilling site for waste drilling mud treatment, shaker performance was great to meet drilling site requirement and our client is very satisfied with AIPU shaker and they are talking with us for new shaker orders which budget for next year. 4 panels shale shaker gives a longer deck to dry drilling cuttings for a dryer result compares 3 panels shaker. Linear motion vibrating supplies a steady working performance with convenient shaker maintennance.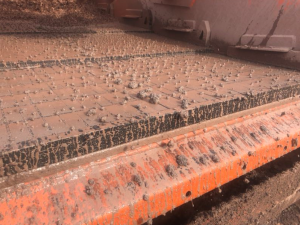 AIPU Linear Motion Shale Shaker
Linear motion vibrating power supplied by 2 sets of Italy brand vibrator motor at G force maximum to 7.5G. The G force is adjustable by adjust motor wedge and shaker working G force suggest set at 6.0-7.0G.
Vibrator motor and electrical control panel is explosion proof, zone 1, area 1 as per IECEX regulation with IECEX certification.
4 panels shaker screen installed on shaker deck to reach a longer drying time for dryer solids product.
Buffer box can be top box, back weir or hopper box for options depending on shaker application.
3 layers painting for shaker with 2 layers epoxy zinc-rich painting and 1 layer PU painting.
Shaker deck angle adjust by mechanical wheels -1° to +5°.
AIPU is one of the top shale shaker supplier in China with many shaker jobsites. Some shakers for water based mud and some for oil base mud solids control and some for other drilling mud process like water well mud, HDD or coal bed methan drilling mud. Please contact us freely for shaker inquiry.