AIPU Shaker Screen Manufacture Follow API RP 13C ?>
AIPU Shaker Screen Manufacture Follow API RP 13C
Shaker screen is the necessary separation part for shale shaker with screen frame and wire mesh. AIPU supply shaker screen as per API RP 13C regulation and screens were tested in professional API RP 13C lab in USA. The screen installation type, dimension, cut point is an open option from various part no.. Screen installation type can be wedge frame type or hook type with steel frame or composite frame. Cut point is strictly supply as per API RP 13C from API 20 to API 400 by fine wire or extra wire depending on API size.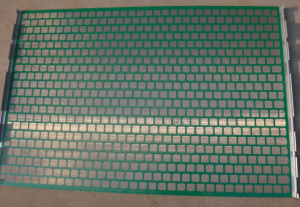 Shaker Screen Technical Specification
Frame type screen to replace MI Swaco and Brandt shaker screen with steel frame or composite frame at different cost rate and working life performance.
Hook type screen to replace Derrick, FSI, DFE and any other brand shaker that use hook type installation.
API mesh from API 20 to API 400 as per API RP 13C to reach cut point requirement.
Mesh wire can be heavy duty, fine or extra fine with different wire diameter and wire material.
Special rubber for shaker screen bottom for well seal screen to shaker deck and avoid mud leackage.
Other than famous brand replace shaker screen, AIPU is able to customize screen size with details technical requirement. A screen drawing and screen picture is the necessary required document to customized shaker screen.