AIPU Mud Agitators Delivery to Drilling Site ?>
AIPU Mud Agitators Delivery to Drilling Site
Mud Agitator is well sued on drilling site to agitating the drill mud inside of tank and stop solids build up at tank bottom. The agitators can be slightly different by motor size and installation type, gear box size and installation type, shaft length and impeller design. AIPU build both horizontal agitator and vertical agitator, the agitator type selection will be depending on mud tank and drilling mud conditions. 12 sets of agitators delivery to China drilling site end of Aug, the agitators will installed on a solids control mud tanks together with electrical control panels.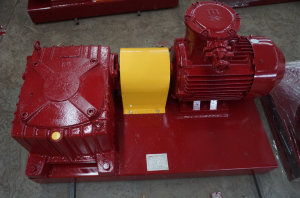 Mud Agitator Technical Parameters
Motors for agitator can be 1.1kw, 3kw, 5.5kw, 7.5kw, 11kw, 15kw, 18.5kw or 22kw depending on shaft length, impeller size and drilling mud conditions. 4 phase motor 1500rpm or 1800rpm rotating speed under 50Hz or 60Hz frequency.

Gear box can be bevel type or worm type, AIPU supply worm type gear standardly because of cost effective. The bevel type gear is small footprint and larger torque strength but higher cost.

Coupler between electrical motor and gear box is optional, some of the agitator supplied with coupler and some is connect directly to save mud tank space.

Shaft length is supplied as per mud tank depth, there is stabilizer on tank bottom if the shaft is 2m or higher depth. The shaft may not install stabilizer on tank bottom if the shaft shorter than 2m.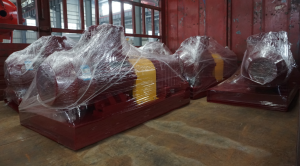 AIPU mud agitator is same design with the international major design. The installation of the agitator onto shaker is bolt type and able to replace all size agitators. The agitator and shaft connection can be different from different suppler. It's better to source a whole set of agitator incase only gear box and or electrical motor to suit the connection. Please contact AIPU Solids Control freely.