AIPU Invite You Visit Our Stand At Iran Oil Show ?>
AIPU Invite You Visit Our Stand At Iran Oil Show
Iran Oil Show is an well known international oil show in the world and a influential oil show in Middle East area. All related oil field equipments and service companies in Middle East will come to show or visit the show. AIPU Solids Control is a manufacturer for solids control equipment, drilling waste management equipment and oil sludge treatment system in China.

AIPU Stand At Iran Oil Show
Show Name: The 22nd Iran International Oil Gas Refining And Petrochemical Exhibition ( Iran Oil Show )
Show Time: 6 – 9 May 2017
Show Address: Tehran International Pernanent Fairground
AIPU stand No.: Hall No.40, Stand No.: 1424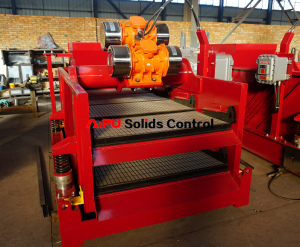 AIPU Main Equipments For Sell In Iran
Double deck shale shaker with 8 panels screen, each deck of shale shaker install 4 pcs of shaker screen with composite material for better performance. The shaker screen is replacable with mongoose type screen. AIPU screen build as per API RP 13C regulation to meet all international standard.
Oil sludge treatment system to reach oil content bellow 2 percent and water will be recycled with zero water discharge. There will be 4 – 5 tanks for oil sludge treatment for fast moving and transport.
Drilling waste management system with Hi G dryer, vertical cuttings dryer, decanter centrifuge and screw conveyor. The model chosen and technical design will be as per jobsite requirement. Normally we say oil base drilling cuttings will need vertical cuttings dryer plus decanter centrifuge to dry solids with oil content bellow 5 percent, water base drilling cuttings will need high G dryer shaker plus decanter centrifuge.
Shale shaker screen for various size and tighten type. AIPU build screen for hunter series shaker and also match screen for international brand of shaker.