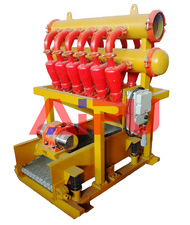 Aipu drilling mud desilter ?>
Aipu drilling mud desilter
Aipu is a drilling mud desilter manufacturer in China. Aipu oilfield desilter have been exported to many countries and we have got a lot of good feedback from all clients.
Oilfield drilling mud desilter
Drilling mud desilter is the third stage of solids control equipment. In oilfield solids control system, the 15 to 44 μm solids are to be separated from drilling mud, the rest drilling mud will be further processed by next stage equipment.
Main part of drilling mud desilter is the hydrocyclone cone (desitler cone). It is a kind of pressure device. The separation process is carried out by employing centrifugal forces. Under pressure, drilling fluid with solid particles will flow into the mud desilter cones, after high rotation, bigger and heavier particle will be threw to cone wall, then slide down till drop in apex and separated out. Clean fluids will be moved out from cone top port. So, there will be 2 rotary gas flow in the drilling fluids mud desilter cone, one is liquid contains quantity big solid flow down as cyclone, the other is smaller solid mixed with gas go up as bow wave.
Drilling mud desilter in mud cleaner
Oilfield drilling desander and oilfield drilling desilter are combined as mud cleaner. Drilling mud is fed to the inlet of the desander hydrocyclone and desilter hydrocyclone to separate particles and the underflow passes to the fine screen mesh where in particles larger than barite are discarded and thrown away. In most drilling operation, oilfield mud cleaner is usually located in mud tank. Oilfield drilling mud cleaner is the best choices for small oilfield solids control system for HDD, CBM, water well drilling, mining exploration industry, etc.
Aipu desilter advantages
100% Polyurethane(PU) material to make desilter cones to extend its service life
Clamp type for easy maintenance
Compact design small in footprint
Flexible options for 8 or 10,12,16 for different capacities
Flexible fast connection is available for user to assemble
Solids control equipment is used in oilfield drilling rig to separate the solids in the drilling fluids that are crushed by the drill bits and carried out of the well surface. Oilfield solid control equipment is consist of oilfield shale shaker, vacuum degasser, oilfield desander, oilfield desilter, oilfield drilling decanter centrifuge. Oilfield drilling shale shaker is used to separate the big solids with diameter above 75μm, and 45~74μm for oilfield drilling desander, and 15~44μm for oilfield drilling desilter. Vacuum degasser is used to separate the air, if air enters into the drilling fluids.
About Aipu
Shaanxi Aipu Machinery Co., Ltd. as a professional solids control manufacture specializes in drilling, sales, services and manufacturing of solids control, drilling waste management and all other related equipment. With many years of experience, we are totally committed to customer satisfaction. Aipu's main solids control equipment include shale shaker, decanter centrifuge, mud cleaner, desander, desilter, centrifugal pumps, vacuum degassers, mud tanks, shaker screens and the complete set of various solids control systems.