AIPU Back From Algeria Oil Show (NAPEC) with Great Feedback ?>
AIPU Back From Algeria Oil Show (NAPEC) with Great Feedback
AIPU Solids Control is a top manufacturer for solids control equipment including shale shaker, mud cleaner, centrifugal pump, decanter centrifuge, mud agitator, mud tank, vertical cuttings dryer, etc. AIPU take part in Algeria Oil Show during Mar 25 to Mar 28 in Oran, it is great to show AIPU equipment and present for China equipment to Algeria people. We wish China establish good relationship with Algeria.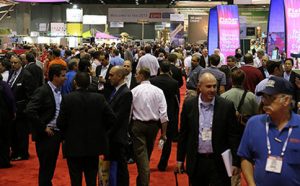 What AIPU Solids Control Supply?
1.       Shale Shaker is the first phase equipment to separate drilling cuttings out of drilling mud. The shaker is vibrating by 2 sets of vibrator motor, the shaker screen is vibrating to separate solids out. The screen mesh is supplied as per API standard from API 20 to API 400, the coarse mesh will be used for shale shaker and fine mesh will be used for desander or desilter bottom shaker for recycling fluids.
2.       Desander, Desilter or Mud cleaner. The cyclone can be separate fix on a frame, we name it desander or desilter. The cyclone desander and desilter can be fix on a shaker, we name it mud cleaner. The cyclone is used to separate sand or silt depending clone size.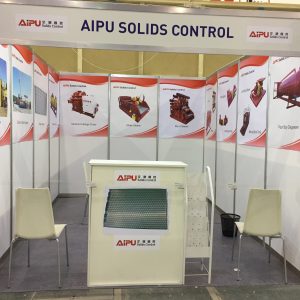 3.       Centrifugal pump is made by electrical motor, pump head and pump skid. The pump will be lay on site for drilling mud transfer or working as a feeding pump.
4.       Mud tank is working as intermediate storage, active storage or mixing depending what the tank will be do. The tank size can be customized on length, width and depth. Pipeline arrangement will be depending on drill site requirement.
Other than above equipment, AIPU supply a series solids control equipment. After back from Algeria oil show, AIPU established relationship with many local driller and service company. We are happy that we can be one of the company involved into China-Algeria friendship.