500GPM HDD Mud Recycling System Supplier ?>
500GPM HDD Mud Recycling System Supplier
500GPM HDD mud recycling system is well used for horizontal directional drilling as well as mining industry with different electrical standard. AIPU is one of the leading supplier in China with different standard for drilling industry to suit client requirement. The whole system can be customized with different size mud tank, tank compartment arrangement, pipeline and valve layout, pump layout, etc. The tank is made by H beam, steel plate, square pipe, grating on top, handrail and ladder, etc.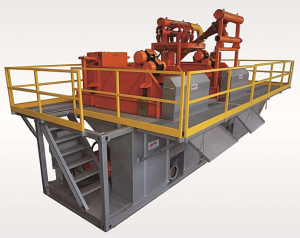 500GPM HDD Mud Recycling Shale Shaker Specification
1.       1 set 500GPM linear motion shale shaker with 3 deck screens installed on shaker deck. The shaker installed on tank by 4 bolts for fast moving and installation.
2.       2 sets of vibrator motors for shaker deck to reach linear motion vibrating. The 2 sets motor will balance force on horizontal direction on the shaker width direction.
3.       Shaker deck is heat treated to allow high G force vibrating with high strength material Q345.
4.       Shaker deck angle can be adjust -1 to +5 degree by mechanical adjust. Electrical adjust can be optional by extra request on technical.
5.       Shaker screen is frame type design with wedge installation into shaker deck. The screen can be steel frame or composite material frame depending on shaker model selection.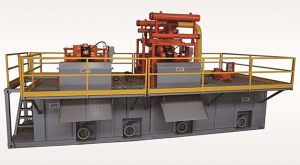 500GPM HDD Mud Recycling System Configuration
1.       1 set linear motion shale shaker with 500GPM capacity, 1 set mud cleaner with 1 set shaker and desander desilter cyclones installed on second set shaker.
2.       2 sets centrifugal pump installed on tank skid for desander and desilter mud feeding.
3.       1 set mud agitator on third tank compartment to stop solids build up in tank bottom and corner.
4.       1 set mud tank 9 meters long to install all equipments on.
5.       Pipeline arrangement, stairway, handrail, butterfly valves for mud tank arrangement.