4 Panels Shale Shaker for 1000HP Rig ?>
4 Panels Shale Shaker for 1000HP Rig
4 panels shale shaker is the used widely for 1000HP rig or a larger rig with more sets shakers installed. 2 or 3 sets shakers installed on the shaker tank to reach 1000-1500GPM mud flow capacity on drilling site. The 4 panels means each shaker installs 4 pcs shaker screen, each screen 585 x 1165 mm size which is replaceable with Mongoose shaker screen. Frame type screen with wedge for tighten screen onto shaker to reach fast replacement with hammer.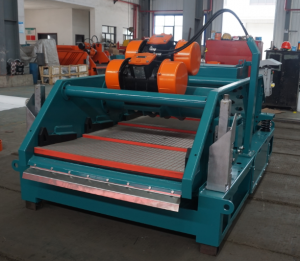 4 Panels Shale Shaker Features
Of cause 4 panels is the one of the main features with larger shaker screen performance area to 2.7 square meters totally. Each panel fixed a set of rubber between shaker deck and screen to seal.
Linear motion and dual motion shaker supplied for options depending on drilling conditions and budget. Dual motion shaker is high rate compares linear motion shaker because of motor and control panel.
Weir type buffer box to minimum weir height to suit some low weir drilling rigs.
Explosion proof vibrator motors and electrical control panels, EX standard is a free option like IECEX, ATEX, UL or China Ex at different rate and Ex mark.
AIPU Solids Control supply 4 panels shale shaker, 2 panel and 3 panels as well. Please contact AIPU for shale shaker and we will give your options as per your drilling requirement.