1000GPM Mud Cleaner Configuration ?>
1000GPM Mud Cleaner Configuration
Mud cleaner is a three in one equipment include shale shaker, desander and desilter for second phase and third phase solids control after shale shaker. The mud cleaner mud flow capacity can be supplied for 500GPM, 1000GPM and 1500GPM options depending on cyclone size and quantity. AIPU is one of the professional suppliers for mud cleaner as well as other solids control equipment like shale shaker, desander, desilter, centrifugal pump, poor boy degasser, vacuum degasser, various pumps, mud tank, mud agitator and other related parts.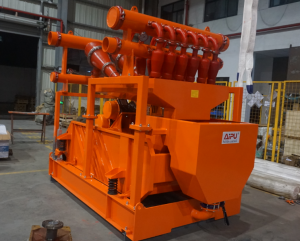 1000GPM Mud Cleaner Configuration
4 screen panels shale shaker with API 170 mesh screen installed. Linear motion vibration by 2 sets Martin vibrator motors to supply a steady working performance. Electrical standard IECEX certified with certificate to buyer's jobsite requirement.
10" desander cyclone for second phase cleaning at 47-76 microns and 1000gpm capacity by 2 sets cyclones.
4" desilter cyclone for third phase cleaning at 15-25 microns at 1000GPM capacity by 12 sets cyclones.
Pipeline arrangement for desander and desilter cyclone with clamp connection for fast moving and installation.
1000GPM mud cleaner is the most popular size for oil and gas drilling site for drill rig 1000HP size. 500GPM and 1500gpm models are an open options for oilfield or other drilling slurry separation. Please contact us freely for mud cleaner inquiry.