10 Sets Mud Desander Unit Delivery To Asia Client ?>
10 Sets Mud Desander Unit Delivery To Asia Client
AIPU Solids Control received an repeat order from Asian client for 10 sets of mud desander unit for horizontal directional drilling ( HDD ), This client purchased one set of shale shaker last year for a trial order, the shale shaker arrived to jobsite end of last year and working with a good performance feedback. After the good performance of shale shaker, the client ordered again for 10 sets HDD mud desander unit to match there Vermeer drilling rig.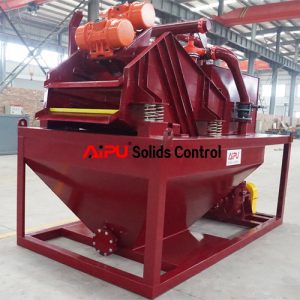 Main Configuration Of Mud Desander Unit
One set double deck shale shaker, the bottom deck installed coarse mesh of shaker screen for first phase cleaning by separating big solids particles like stones and big drilling cuttings. There is 3 pcs desilter cyclone installed for second phase clieaning, and discharge solids particals onto top deck screen for recycle fluids contain.
A set of centrifugal pump sit on tank skid for mud transfer and desilter cyclone feeding, there pump outlet connected with desander feed pipeline by soft connections.
One set 3 meters mud tank for holding mud and pump, it is small footprint design for fast moving and easy maintainance.
Electrical control panels for control all electrical motors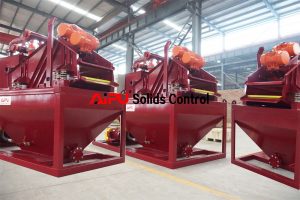 Options Of AIPU Mud Desander Unit
50 M3/H desander option with double deck shale shaker plus desilter cyclones on a small mud tank with centrifugal pump installed for mud transfer.
100 M3/H mud desander option with a hunter double deck shale shaker plus desander cyclone for 60 micron separation.
250 M3/H desander option with a hunter 4 double deck shale shaker plus desander cyclone and centrifugal pump installed on a small footprint mud tank.
500 M3/H drilling mud desander opiton with a coarse mesh mining shaker and 2 sets of 250 M3/H desander unit, it is small footprint and fast for moving with standard compartment.