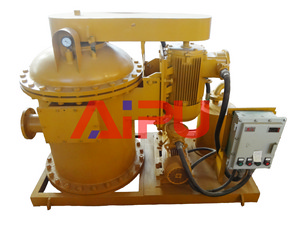 Vacuum degasser for drilling fluids processing ?>
Vacuum degasser for drilling fluids processing
As the second class purification equipment for oilfield drilling fluid, vacuum degasser actually is used to remove little invaded gas in drilling mud. It will be set between shale shaker and mud cleaner/desander.
The function of vacuum degasser
It is necessary to install a vacuum degasser for their removal from the drilling fluids since the invading gases may impact mud properties, case safety risks and affect the lifespan of some equipment.
Vacuum degasser can be used as a heavy-power agitator and stupported applicable to all types of drilling mud purification system. The drilling vacuum degasser unit design of structure is scientific and rational. So we are able to achieve an effective gas-liquid separation, filter out impurities and to ensure that the exhaust pipe is always smooth.
Operational theory
Vacuum degasser utilize negative pressure by vacuum pump to withdraw entrained gases from the mud. In order for this to work, mud is pumped through a venturi, which develops a negative pressure in the vessel by vacuum pump, thus sucking mud into the unit. The choice between horizontally- or vertically-mounted units is typically based on the footprint requirements of the specific rig.
Features and benefits of drilling mud vacuum degasser
Self-contained unit without need for drilling fluids centrifugal pump to feed drilling mud.
Eliminate corrosion and reduce reparation and maintenance costs.
Short footprint can be installed in small spaces.
Drilling fluids degasser can act as a big agitator for drilling mud, which helps the treatment for drilling fluids desander and drilling mud desilter.
Aipu solid control is a professional manufacturer of solid control system/equipment in china. We will provide our clients high quality products with most reasonable price, at the same time we also sincerely offer the high level after sales service for any home or abroad clients. You are welcomed to consult or visit us any time.