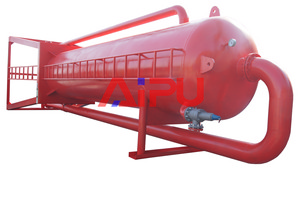 Using methods of mud gas separator ?>
Using methods of mud gas separator
Mud gas separator is professional equipment to treat the gas invade mud. How to correctly use it is very crucial in drilling operation.
Operation principle of the separator
Drilling fluid with gas invading goes into the separator at the import tangentially and drops to a series baffles along the inner wall. After collision to increasing the contact area, it flows downward and become to a turbulent state which makes gas separate from mud and the free gas passes through the top of tank and discharged from the gas export. The length of gas export pipe can be determined at site and be induced to the safe place. The drilling fluid without gas will flow into the circular tank.
Mud gas separator should meet the following requirements
Mud gas separator inlet pipe diameter should be equal to or greater than the diameter of the throttle pipe the discharge pipe.
The discharge pipeline diameter shall be not less than the inner diameter of the pipe imports, mud discharged directly to the vibration sieve inlet manifold or mud storage tank.
According to practical experience, treating capacity of mud gas separator must be 5 times more than the design cycle.
Mud gas separator manufactured by Aipu solids control
Aipu solids control is one of the leading manufacturer in China on solids control equipment. There are 3 models of mud gas separator MGS800, MGS1000 and MGS1200 are the main for oil and gas drilling rig solids control to working for 2000m,3000m,4000m,5000m or 7000m drilling rig solids control system. Other than mud gas separator, Aipu also supplies shale shaker, desander, desilter, centrifugal pump, decanter centrifuge, mud agitator, mixing hopper, mud tank and so on related for drilling mud solids control system. If you are interested in our products, please feel free to contact us.