Top Suppliers For Economy HDD Mud Recycling System ?>
Top Suppliers For Economy HDD Mud Recycling System
There are many top suppliers for HDD mud recycling system in China, AIPU Solids Control is one of the top suppliers for HDD mud recycling equipments and exported to more than 30 countries like Australia, India, America, Indonesia, Malaysia, Thailand, Middle East, etc.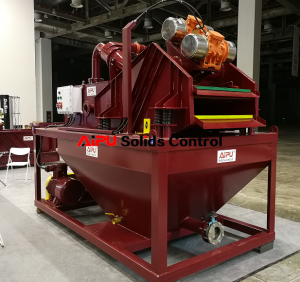 AIPU Economy HDD Mud Recycling System
Mud flow can be 200gpm to 1000gpm to suit mud pump mud flow. 200gpm, 300gpm, 500gpm and 1000gpm mud flow HDD mud recycling system are AIPU standard model for HDD drilling.
Mud tank size can be customized, tank can be skid mounted or trailer mounted depending on client requirement. The tank skid built by H beam 150mm, 200mm, 250mm or 300mm height depending on tank size, 100mm square pipe on tank top for mud gun line and water line.
Buffer box fixed on shaker top to minimum shaker length to allow shaker sit on tank top within tank width, so shakers will be stay on tank while delivery for fast moving.
Desander and desilter cyclone size and quantity will be fixed depending on mud flow requirement. The cyclone will install on top of double deck shaker for second phase cleaning.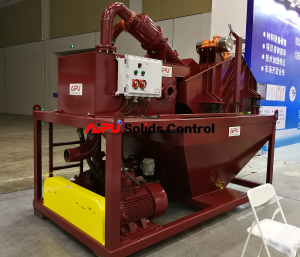 HDD Mud Recycling Spare Parts
Shaker screen is regular spare parts for HDD mud recycling system, the shaker screen will be different size for different size of shaker. AIPU supply shaker screen as per API regulation to meet international standard.
Centrifugal pump for mud transfer, or pump parts like impeller, mechanical parts, oil seal or bearing.
Desander and desilter cyclone with nozzle, clamp and elbow. AIPU supply cyclone to meet AIPU model as well as other international brand parts.
Butterfly valve for pipeline connection inside or outside of mud tank. The butterfly valve can be handle type or wheel type.
Other spare parts please contact AIPU website