Poor Boy Degasser Delivery ?>
Poor Boy Degasser Delivery
AIPU deliveried 2 sets of poor boy degasser to jobsite for oil and gas drilling. The poor boy degasser is design to set before shale shaker to separate gas. Poor boy degasser has different name like mud gas separator or gas buster. It is the effective equipment to separate large volume of gas from drilling mud in the kick situation. There will be a set of flare ignition device to treat separated gas from poor boy degasser.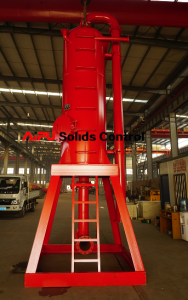 Specification Of Poor Boy Degasser
Model of poor boy degasser is APMG1000, AP is the short name of AIPU Solids Control, MG is the short name of mud gas separator, 1000 is the size of tank vessel diameter.
The flow rate of mud will be between 240 to 300 cubic meters per hour with mud inlet size 5 inch and discharge line size of 8 inch.
The vent line of separated gas is 8 inch size, the 8 inch gas line can be customized for different length and connection.
The overall dimension is 5860mm height, 2000mm length and 2000mm width.
Raw material is H2S resistant for longer durability and carbon steel can be for a economical cost.
There are different size of poor boy degasser for option with 600mm, 800mm, 1200mm tank vessel diameter with mud flow capacity from 200 to 360 cubic meters per hour.
Painting color can be customized by buyer and red color is the standard color. If buyer need special color, please send RAL no. for reference.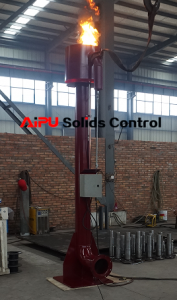 AIPU Solids Control deliveried more than 100 sets of poor boy degasser to client world wide. The flare ignition device some times will delivery with poor boy degasser, sometimes will delivery to client separately depending on different order. Please contact AIPU Solids Control freely if client need any solids control equipment.