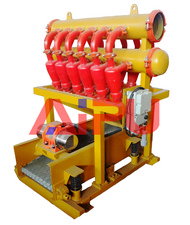 Drilling mud desilter ?>
Drilling mud desilter
Drilling mud desilter brief
Mud desilter is the third phase solids control equipment used to purify the drilling mud. It is used to depend on 5 "and 4" cones to separate between 15 and 45 micron solids particles. According to customers' different requirements, we can design different types of desilters.
Desilter structure and working principle
The mud desilter is mainly composed of a perfusion tube, overflow discharge, cyclone group, shale shaker and holder, etc.
The basic principle is drilling fluid transferred by centrifugal feeding pump to desilter into the mud tank. At this occasion, the drilling fluid is under certain push force and pressure. The drilling fluid will become high speed whirl and give large centrifugal force.
Then the heavier solids will flow out via outlet hole. If there is a bottom shaker, the drilling fluid will be filtered again by screen. Finally the particle will be separated out of tank.
The purified drilling mud by desilter will overflow into mud tank awaiting next process.
The desiiter maintenance
Before using desilter firstly we must remove the locking pin.
If desilter hasn't be operated for a long time, we must clean it out completely to prevent accumulation of dry sand in hydrocyclone
We should be injected grease into vibration motor every 1500~2500 hours, each bearing should be fed 5~10ml.
After the operating, cleaning shaker screen immediately to avoid sediment blocking.
The advantages of Aipu desilter
Cones size and numbers are flexible to meet clients' different demands.
Polyurethane cones are more durable.
Whole equipment design is exquisite and convenient to handle and install
A few wearing parts and easy to maintain
Competitive price very cost-effective proposal
Aipu solids control operating international oil gas drilling mud separation system can provide good quality equipment at  the best price. Hydrocyclone desilter for drilling mud circulation system produced by Aipu machinery will be your best choice.