Decanter Centrifuge For Sale ?>
Decanter Centrifuge For Sale
AIPU Solids Control build a full line of solids control equipment, decanter centrifuge is one of the equipment. There are 6 sets of high speed decanter centrifuge that manufactured in Oct 2016 for sale with very good discount. There is one client ordered 6 sets of high speed decanter centrifuge for drilling waste management but project was postponed, so the decanter centrifuge not able delivery with good discount and ready delivery. All the details specification and parts already tested with good operation condition and meet regulation on equipment out of factory.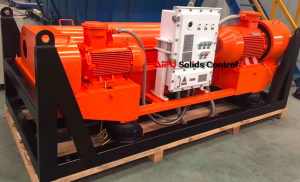 Main Specification Of Decanter Centrifuge
Decanter centrifuge model: APLWG355x1258N-D
Max bowl speed: 3400RPM
Typical bowl speed: 3200RM
Diameter of bowl: 14 inch
Length of bowl: 49.5 inch, bowl material is stainless material at grade of SS304.
Main drive: 30/37 kw motors with explosion proof motor from China top brand.
Back drive: 7.5kw motors with explosion proof motor from China top brand.
Screw is made of stainless material of ss304 for screw protection, there are tungsten carbide coated on screw impeller to protect impeller from abrasion by solids fluids mixture.
Electrical control component are Siemens, Schneider, ABB or other top suppliers.
Bearing choose FAG or SKF for longer and reliable centrifuge operation and performance.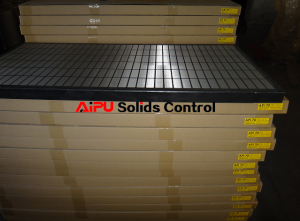 Other than oilfield centrifuge, AIPU Solids Control build shale shaker and shaker screen also. There are different options for shale shaker with 3 panels or 4 panels and even double deck shale shaker available. The screen can be steel material or composite material for better screen performance while drilling. The screen mesh can be from API 20 to API 325 depending on client request based on drilling conditions. All screen are wedge frame type for fast moving screen during operation. Hook type screen as an option which can be change depending on client request.