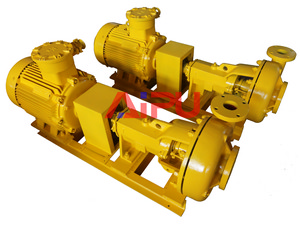 Centrifugal pump-drilling mud transporter ?>
Centrifugal pump-drilling mud transporter
The drilling fluid centrifugal pump plays a very important role in drilling fluid solid control system, it is mainly used in extracting the drilling fluid which has viscosity and has solid particles, and it is the power source for desander, desilter and jet mud mixer.
Centrifugal pump in various industries
Centrifugal pumps are commonly used to handle medium between -20℃~105℃, and even higher temperature medium of provided with cooling measures in case of needed. They are suitable for chemical, petroleum, metallurgy, electric power, papermaking, foodstuff, pharmaceuticals, synthetic, etc. industry. They are featured by wide range of performance, high efficiency, superior standardization, easy maintenance, etc.
Centrifugal pump structure and principle
The basic parts of centrifugal pump are rotary impeller and stationary pump case. Impeller and the pump shaft are connected, and there are some crooked vanes on the impeller. When the pump shaft is driven by outside power, the impeller will spin in pump case. The liquid enters into centre of impeller, get through from vanes and enters into pump case, at last discharged from tangent exit of pump.
Seal for centrifugal pump
When the  working environment is bad, it needs to deliver the drilling fluid for a long time, so the seal of shaft end is required to be very reliable. The common shaft seals include packing seal and mechanical seal. The shaft seal ensures the centrifugal pump can work normally and efficiently. When it is working, the pump shaft is rotary but the shell is motionless, if the annular space between them not to seal or seal is bad, outside air will enter into low-pressure area of impeller centre, the flow and efficiency will decrease. In general we can use the mechanical seal or packing seal to realize the seal between shaft and shell.
Key issue on centrifugal pump work
Centrifugal pumps for desanders, desilters, also decanter centrifuges the drilling mud, especially the dirty drilling fluids with drilling cuttings particles will abrade the pump impeller, liner, etc. The qualified centrifugal pump for solids control industry the key issue is the axel, wet parts are durable and wearable enough.
Another important issue for  pumps is the seal. Commonly the mechanical seal will be considered better than oil rope seal, etc. Presently, the mechanical seal is more suitable for centrifugal pump used in solids control industry.
Aipu machinery is a professional manufacturer of solids control equipment in china, we supply high quality centrifugal pump and other mud cleaning equipment, any interests or questions please feel free to contact us.