AIPU Back From CIPPE Exhibition With Decanter Centrifuge Order ?>
AIPU Back From CIPPE Exhibition With Decanter Centrifuge Order
CIPPE oil show is a international exhibition for oil and gas in Beijing, it will hold every March. All related companies will show their oilfield equipment on CIPPE. AIPU Solids Control show one set of shale shaker, decanter centrifuge, centrifugal pump and mud agitator this week and sold decanter centrifuge on the second day of exhibition. Decanter centrifugal is the forth phase of drilling mud separation equipment in a whole solids control system. It separate solids above 2 – 7 microns depending on centrifuge bowl diameter and bowl rotation speed.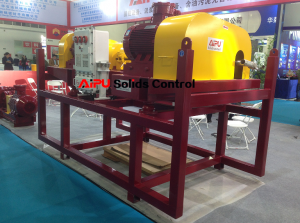 Main Features Of AIPU Decanter Centrifuge
Decanter centrifuge bowl size 355mm diameter and 1258mm length for longer path of solids discharge for better drying performance. The main rotating parts including bowl and screw is made of stainless material. There are tungsten carbide plate welded on screw impeller or tungsten carbide material coated on screw impeller for protection against wearing. Solids discharge point is protected by ceramic plate.
Max bowl speed reaches to 3500RPM and typical speed at 3200RPM for a better centrifugal force which help for solids separation. Many client will choose a VFD control panel to make bowl speed changeable to suit different drilling requirement.
Mud flow typically at 150GPM, there is an T outlet at mud inlet that to allow extra mud flow back to mud tank.
Control panel is made by Siemens, Schneider, or ABB main component. Control panel can be IECEX certified, UL certified, ATEX certified, DGMS certified depending on client request. Electrical motor brand can be customized and standard can be same with electrical control panel.
Full set spare parts of decanter centrifuge can be supplied very fast. AIPU keep all necessary spare parts of AIPU brand equipment like shale shaker, desander, desilter, decanter centrifuge, centrifugal pump, mud agitator, mud tank, etc.